The Empower Network

– A Scam –
Another Bait and Switch
Name: Empower Network
Website: www.empowernetwork.com
Price: $25/mth basic, $100/mth inner circle,
$19/mth payment, $500 Costa Rica Intensive, $1,000 15K Formula,
$3,500 Master's Retreat
Owners: David Wood & David Sharpe
Overall Rank: 2 out of 100 points

The Product
Empower Network (EN) is NOT a REAL opportunity. I was approached by no less than 10 pretty heavy hitting internet marketers about this "opportunity" to make money fast. I regret to admit that I do have experience with EN and I was not very happy at the experience of it. In this review I am going to be walking you through what EN is and will hopefully assist you in making an informed decision about whether or not you want to set yourself up with this membership site.
I want to clarify one thing, I did not "Go All In". with EN. I signed up for EN for the $25.00/mth and then I did signup for the $19.00/mth. I did go through all of the available training afforded me at that level. This was probably one of the dumbest organizations that I have ever tried. Luckily I got out rather quickly and I took their training to heart where they basically pound into you "Go All In, or Go Home". I also didn't take very kindly to being called a "wussy" over and over again. Coming from Urban Dictionary , "wussy" is defined as "A person with no guts. A person who whines all day and sits around and cries like a little baby for years over nothing. Will blow anything out of proportion and create drama to forget about their sad miserable lives." This in no way shape or form describes me. If you chose to go look at the link, You will find another definition that is so sad, in my opinion that I won't even post it here.
To put things into perspective, take a look at how EN compares (or doesn't) to my number 1 recommendation Wealthy Affiliate. .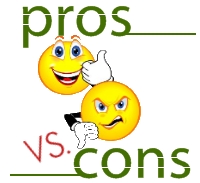 Pros vs. Cons
There are only two pros and a lot of cons with EN. The problem is that there is no real product behind the program, rather YOU are the product. The goal of the program is getting you to promote the very same scheme to other people and building a down-line. Unlike other MLM products where there is actually a product that you are selling to customers (ex. Avon, Amway, etc), EN completely lacks this element. I used to be involved with another program a few years back named Empowerism. This group has the same problems with not really having a product to promote.
Here is a breakdown of the Pros & Cons of the EN program:
Pros:
Get your own empowernetwork.com blog (although this is a stretch because you don't retain the rights to you content, EN retains that right).
The training video on the legal aspects of what an affiliate marketer has to include on their site, done by one of the Dave's and supposedly their attorney was engaging and enlightening.
Cons:
It is a PONZI Scheme.
Doesn't really help you to find and develop around a personal passion.
Since all the "successful" members are using hard handed internet marketing, you have to implement the same techniques in order to promote EN to others.
Riddled with "up-sells" and it isn't until you log in to your Empower back office that you see all the up-sells. I have yet to have seen an internet marketer promoting EN advertise up front that you will be looking at paying out $5,000 in order for you to "make money".
If you want to succeed, you have to invest minimum $140/mth and buy all the other products or if you invest time in "grooming" someone and they "Go all In" then your upline gets the commission for any products you haven't purchased.
You have to PAY $19 per month for eWallet just so you can get paid. It is strange too because this is suppose to be a Florida based company but the bank is in London.
There are widespread COMPLAINTS online about EN. Many are in text format but there are also a lot of videos too.
No access to the owners.
No free trial
The compensation model is confusing. The image below tries to explain it. Bottom line, it isn't the 100% Commission as advertised.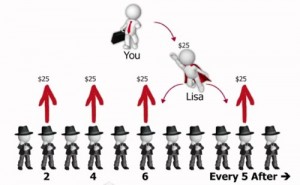 Who is EN Intended for?
They claim everyone is going to earn money, with little money, with little work, on autopilot! Sounds like the DREAM we are all envisioning doesn't it. I have learned over the years, little money down, little work, autopilot is a myth. It just simply doesn't exist.
If you are not good at aggressive recruitment and hard selling people on the idea of a scheme like the one above, EN is not going to be for you.
Tired of Ruthless Schemes Like EN? Get REAL Help Here.
If you are looking to earn money online and do it in a way that is ethical and can be applied to any niche, Empower will not be the community for you. Their primary focus is going to be training you how to promote Empower to other people. That's it, so if "how to make money online" is not a niche you want to get involved in, run don't walk away from EN.
Does EN Offer ANY Support?
In my experience, EN did not provide support. My up-line, on the other hand, was sending me emails almost at a spam level. I finally clicked on the "remove me" from your list button.
There are weekly calls from the David's which is more of a "rah rah" session than anything else, aiming to recruit more people into their scheme.
**In comparison, my #1 recommended product provides FULL 1-on-1 mentoring and support and the owners are actively involved and also weekly online one hour sessions to dig deeper into topics covered in the training.
How Much Does it Cost to Join EN?
The pricing of Empower is complex and much more than it initially appears.
Blog Beast – Blogging System ($25 per month). You also do not own the content you create on your blog. I have received many complaints from folks that have quit Empower and have not been able to delete their websites because when you join, you sign a disclaimer stating that you don't own any of the content you create. In essence, you basically get nothing for this $25 per month fee other than the fact that you are creating content for someone else on a blog.
So in totality, you are looking at $5,00+ $140 per month if you want the full suite of products offered within EN. That is a far cry from the $25 price point that everyone seems to be promoting out there.
Again, MY Overview…
Just a Few (of the many) EN Complaints Found Online…
EN Warrior Forum Review:
EN
EN Ripoff Report:
EN Review
EN Scam Report:
Empower Network Bullies Threatens to Sue Google over YouTube!
VERDICT: SCAM!!!, No product, pyramid-style ponzi scheme, VERY expensive, no support, STAY AWAY FROM THIS PROGRAM!
** Get the TRUTH About Building a Business Online! **
Do you have a personal review or complaint that you would like to share about Empower Network?
If you do, I would appreciate it if you could leave your comments below! Thanks!