What Is A Forum?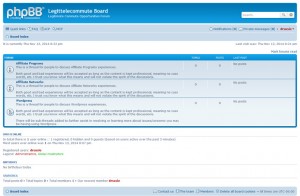 An Internet forum, or message board, is an online discussion site where people can hold conversations in the form of posted messages. Chat rooms, by contrast are usually just one line of text. Forums allow people to post messages. Messages are attached to threads, threads are generally topic specific. Message might need to be approved by a moderator before it becomes visible. Threads can be replied to by many people.
Some forums require a sign-in in order to participate and leave messages. Different forums have different rules, for instance promoting in some forums is considered spam. Other forums may have a thread (topic) where people can promote anything they want.
The fact that the messages and replies to it stay in place, people can participate at different times. In other words, people do not all need to be online at the same time to be able to participate. Chats require participants to be online at the same time to participate and generally the chats are not saved offline in order to be accessed later.
The forum owner has the capability to give different people different levels of access. Generally speaking only administration level and/or moderator levels can remove postings. Some forums require a moderator to approve a posting prior to it being visible, others allow visibility immediately.
A good example of an Internet Marketing Forum is the Warrior Forum. This forum does require logging in to be able to post, guests can read through the various threads. This forum has a significant participation. People from all over the world post about a variety of topics having to do with making money online. The forum is recommended for research purposes, however, it is extremely easy to get caught up in buying and buying and buying all the latest and greatest products.
Everything you need to learn you can learn at Wealthy Affiliate. The training is top notch and thorough. Included with the training is access to ask questions and chat with other members.